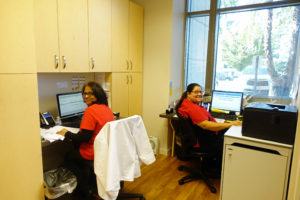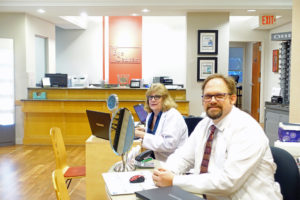 You rely on your eyes every day to navigate your house, your town, and your workplace. But if your vision is blurry, clouded, or spotty, performing even the simplest of tasks can be difficult. Luckily, modern technology can improve your eyesight and help you get your life back.
If you need a medical eye doctor in the Rockville, MD, area, come to the Eye Center. Our team has more than one experienced ophthalmologist available, as well as an optometrist on site who specializes in glasses, contact lens, and emergency eye issues.
Eye Health
Even if you had perfect vision as a child, your eyes will likely develop problems as you get older. If you find that you have a hard time reading road signs or that your vision has become cloudy, schedule a visit with us.
We offer a variety of eye-related services, including eye exams, cataract surgery, and Lasik surgery. We are medical doctors who focus on — and treat — a variety of eye problems and diseases, including AMD, bulging eyes, cataracts, CMV retinitis, color blindness, crossed eyes, and Diabetic Macular Edema.
If you suffer from these issues or have any other type of medical eye problems, come to see our eye specialists.
Eye Surgery
In addition to performing eye exams, our doctors are also qualified to perform eye surgeries, including cataract and Lasik surgery. This increasingly popular procedure will correct your vision, eliminating the need for corrective lenses of any kind. Talk to our doctors to see if this type of surgery is right for you.
See below for a list of the other surgeries we perform, and be sure to call us with any questions you may have.
Eye Exams and Corrective Lenses
Our comprehensive eye exams enable our doctors to provide you with the correct prescription at the end of your visit. You can then order either contact lenses or glasses from our office, and you will inform you as soon as we have your order in.
Once you start wearing corrective lenses, you should continue to visit your eye doctor every year to make sure that your prescription is still up to date.
To schedule an appointment at one of our two Rockville, MD, offices, call 301-279-9696.

We use a team approach to give you the best outcome.
MEDICAL/ROUTINE SERVICES
SURGICAL SERVICES
Complete medical eye exams
No stich cataract surgery
Routine vision exams
Ultrasound studies of the eye
Prescription for glasses
Intraocular lenses
Visual Field Analysis
Multi-focal & toric implants
Eye pain
Mono-vision
Vision changes
Lasik & PRK Surgery
OCT fundus photography
Glaucoma surgery
Corneal topography
Glaucoma laser surgery
OPTICAL SERVICES
CONTACT LENS SERVICES
Complete Optical Dispensary
Professional Fitting
Designer Eyewear
Disposable Lenses
Premium lenses and frames
Astigmatic Lenses
Competitive prices
Full range of color contact lenses
Safety Eyewear
Multi-focal lenses for reading/distance
Sunglasses
Mono-vision lenses
Progressive lenses
Computer glasses
Transition lenses
Anti-glare coating
Large selection:
Men
Women
Children
Diagnosis and Treatment for:

Cataracts


Glaucoma


Dry eyes


Diabetic eye disease


Macular degeneration


Corneal disease


Blepharitis


Vitreous detachment


Iritis


Corneal abrasions/infections